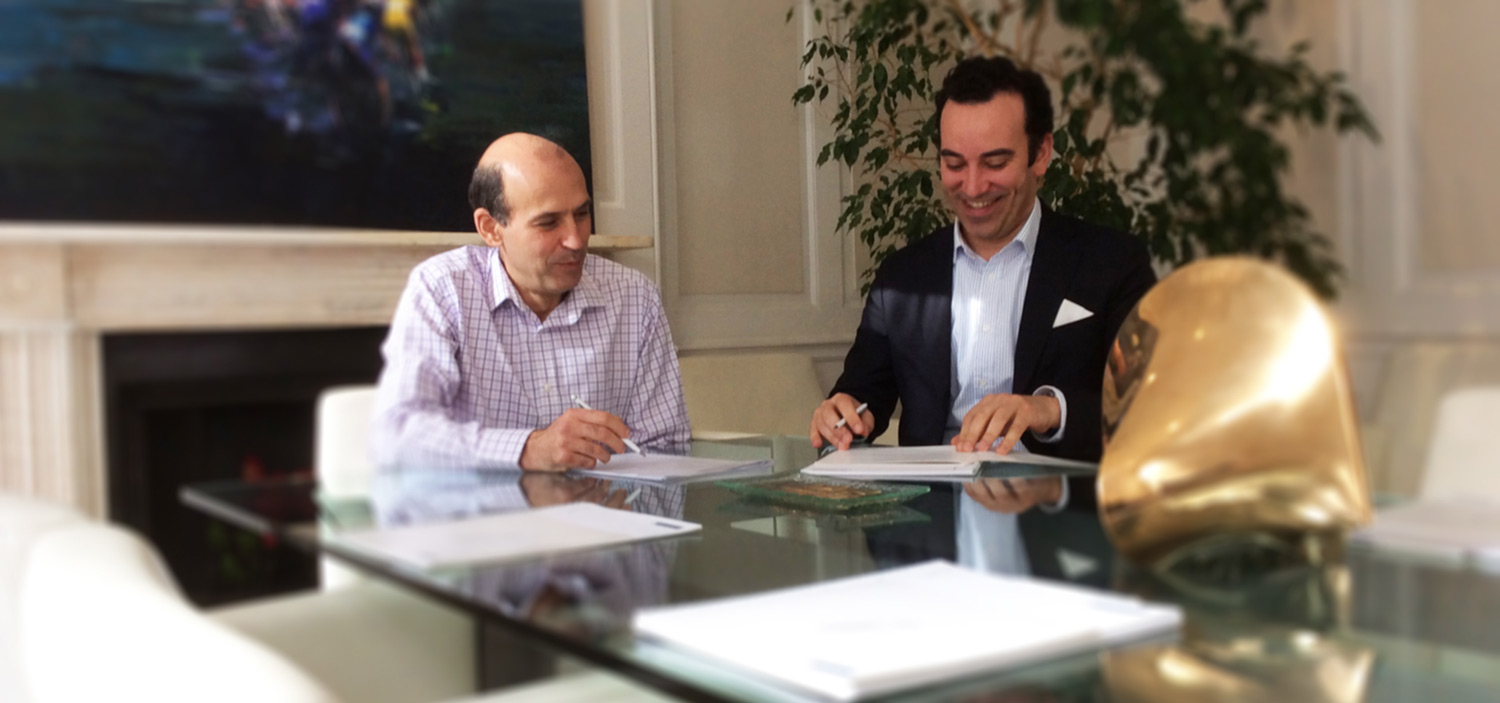 Tony Castagnetti (left), Equity partner of Belluzzo & Partners at work with Alberto Orru, Founder and Director of Investartone

London, 2nd May, 2017 – Investartone have partnered up with Tony Castagnetti, equity partner of Belluzzo & Partners in London, to offer tax and accounting advice to their clients.
The strategic partnership is intended to provide exceptional expertise to all clients of Investartone in both its core activities of Real Estate and Property Investment.'I am extremely excited to announce this co-operation, as it enables Investartone to offer its clients a level of service that very few of our competitors can rival' comments Investartone Founder and Director Alberto Orru.
'Following a decrease in property prices in London due to Brexit and the devaluation of the sterling, the property market is more appealing than ever, particularly to foreign investors.'
'The partnership with Belluzzo & Partners equity partner Tony Castagnetti is the ideal synergy that will allow us to offer unparalleled expertise to our ever demanding clientele,' adds Orru.
The collaboration was finalized by Orru and Castagnetti during the workshop organized by Belluzzo & Partners at the Italian Embassy in London, which saw the participation of H.E. Pasquale Terracciano, Italian Ambassador in London, Fabrizia Lapecorella, Italian Ministry of Economy and Finance, as well as a strong representation of international CEOs, entreprenuers and investors.
'The opportunities offered by London's property market are a significant attraction to foreign investors, and we are pleased to partner with Investartone to help guide its clients with our expert advice,' concludes Tony Castagnetti.
Background information
Investartone Ltd
Founded in 2009 by Alberto Orru, Investartone provides real estate and property investment services to HNWI and corporate clients for the London real estate market. Located strategically in London Marylebone, the experienced team at Investartone offers bespoke solutions to satisfy the complex and diverse needs of its clients.                                                                                                                                                                                                                                                                                Location: 25A, Crawford Street, London W1H 1PL
Belluzzo & Partners
Belluzzo & Partners are a boutique international tax, legal and accounting firm based in Central London with offices in Italy, Singapore, Monaco and Switzerland. With a mainly international client base, Belluzzo & Partners have a heavy focus on Italy.
Location: 38, Craven Street, London WC2N 5NG